Could Jon Hamm be the new Superman?
Casting rumours for the new Superman reboot continue to fly – and Mad Men's Jon Hamm is currently in the crosshairs…
According to Warner Bros' schedule, its planned reboot of
Superman
is heading to screens in December 2012. Straight off, we'd like to be the first to bet that it get nudges back to the following summer, which seems the more natural place to release a big budget superhero blockbuster. But we digress.
The reboot is being overseen by Christopher Nolan, with David Goyer and Jonathan Nolan working on the screenplay. The latter is still strongly rumoured to be directing.
Yet, who will be playing the Man of Steel himself? That's been the subject of Internet rumour for many months now, with
Chuck
star Zachary Levi being one of the most mentioned. However, the current rumours are surrounding Mad Men star Jon Hamm instead. The source of said rumours can be found over at TMT, where the site is quoting sources saying that the actor is being "seriously considered" for the role.
However, we don't buy it.
The problem Hamm faces, sadly, is his age. Right now, he's 39 years old, and we can't imagine that Warner Bros would look at anyone over 30 to headline a franchise it wants to make more than one more film from. Assuming that Warner Bros would look for a three-film arc from its new reboot, that'd put Hamm closer to 50 than 40 by the time the third film came around, and sadly, that's just not how the modern movie world works.
We'd love to see him cast, though, to be fair (not least because he appears to have something of George Reeves about him). And given how well Robert Downey Jr turned out as
Iron Man
, it'd be a real pity if age got in the way.
Furthermore, there's another problem with this latest round of rumour-mongering: the TMT piece dates back to July, although it only recently seems to have been widely picked up upon. You can read it
here
anyway, if you're curious to do so.
Hamm would be a bold and welcome choice to play the Man Of Steel, and his casting would be a prime indicator that we're not - thankfully - going to go down the origin story route again. Yet, we'd still be amazed if this happens.
10 films to look out for at the Raindance Film Festival
With London's Raindance Film Festival set to begin at the end of the month, Michael provides a run-down of ten movies worth keeping an eye on…
Coming up at the end of the month is the Raindance Film Festival, London's showcase for the world's most promising independent and low-budget cinema. Now in its 18th year, Raindance is boasting a line-up of 77 would-be breakout flicks, most of which are receiving their UK premieres.
With strands dedicated to documentaries, Japanese cinema, and homegrown British films, as well as awards given for the best debut, microbudget, UK and international features (to be judged by, amongst others, Charles Saatchi, Julian Barratt, Dave McKean and Lemmy), there's certainly a lot on offer for the discerning cinephile. Luckily for you, we've combed the programme and come up with 10 films that have impressed us with bold concepts, or baffled us with their barminess.
A Serbian Film
Already kicking up a fuss in the UK since it was pulled from the Frighfest lineup last month,
A Serbian Film
is being presented at Raindance as a private screening, in order to get around BBFC cuts.
If you've not heard of this gruelling exercise in boundary-pushing sex gore, where a porn star is brought out of retirement and faced with various tasks and trials by a sadistic director, we'd recommend you check out the helpfully thorough Wikipedia plot summary. Crikey.
Armless
Nominated for both Best Debut and Best Microbudget Feature,
Armless
looks to be a cheeky, dark comedy with a unique twist. The
trailer
builds with deadpan humour and mild drama, before hitting on a quite brilliant punchline, as an otherwise boring man comes to terms with his personal obsession: he wants to have his arms cut off. Hell, we're intrigued.
Cannibal
Another Best Debut nominee is the Belgian film
Cannibal
, a brooding horror about a young man who falls in love with a mysterious girl. She has a secret, one which, judging by the film's title, might have something to do with her peculiar taste in men.
Flooding With Love For The Kid
Now this is an odd entry.
Flooding With Love For The Kid
is inspired by David Morrell's novel
First Blood
(the book which birthed
Rambo
), however this isn't a straight-up reboot. In the running for the Best Microbudget prize,
Flooding
was filmed, acted and edited by one man (Zachary Oberzan), on a budget of $96, in a set constructed within a 220 square foot apartment.
Iron Doors
Indie features love locked door thrillers, mostly because you save on budgeting for multiple sets and locations.
Iron Doors
, however, looks to be a particularly twisted take on the genre, as an investment banker wakes up after a night on the lash in an underground vault. From the
trailer
, it seems to hinge on tension and the banker's slowly deteriorating mental state, as he chisels away at his little prison. It leaves a lot of tantalising questions, not least of which is: just what is he drinking from his shoe?
Jackboots On Whitehall
Recently shown in Edinburgh and due a wide release in October,
Jackboots On Whitehall
is the UK's answer to
Team America
, a perky what-if yarn of invading Nazis and stiff upper lip British retaliation, all in stop-motion, puppet-heavy animation. Up for the Best UK Feature award, the film also stars quite a stunning array of vocal talent, including Rosamund Pike, Ewan McGregor, Timothy Spall, Dominic West and - our favourite - Alan Cumming as Hitler.
Rebels Without A Clue
One of the other Best UK Feature hopefuls,
Rebels Without A Clue
sports a pretty rubbish title, but its mixture of rural English boredom and gangster high jinks looks like it should be a hoot. Check the
first trailer
, where two brash teens discover a pistol in an abandoned car. But what about the body in the boot?
Symbol
Up for the Best International Feature prize,
Symbol
is another closed room thriller, from Japanese director Hitoshi Matsumoto. Like in
Iron Doors
, a man wakes up to find himself in a nondescript room. However, here, he is wearing polka dot pyjamas, and before long the wall starts erupting with penises and hundreds of little babies. We're just as puzzled as he is and, frankly, we want to know more.
Vampires
Vampires
is a Belgian faux documentary, looking at the lives of a family of immortal bloodsuckers. While the concept sounds a bit cynical and contrived, the trailer is quite promising, bringing a lot of mundane humour to the table. What with sleeping in dingy cellars and feeding on illegal immigrants, being a vamp doesn't seem glamorous at all.
Yellow Kid
The
trailer
for
Yellow Kid
is in Japanese, so we can't totally tell what's going on, but this debut from Tetsuya Mariko has an interesting set-up. The protagonist is a wannabe boxer, Tamura, who unwittingly was the inspiration for a high school chum Hattori's manga creation, the Yellow Kid. When their paths cross, Tamura is greatly influenced by the comic, and changes his outlook on life.
The Raindance Film Festival runs from September 29th to October 10th, at the Apollo Piccadilly in London. For more information, visit www.raindance.co.uk.
Chinese cinema chain being sued for showing too many adverts
File this one under weird: in China, a moviegoer is suing a cinema chain for wasting her time by showing too many adverts…
If you've ever sat sulkily through a barrage of adverts while waiting for a film to start at your local multiplex, you'll probably sympathise with the plight of Chinese cinemagoer Chen Xiaomei.
According to a story in the Independent, Xiaomei visited a branch of the Polybona chain of cinemas in the city of Xian to see the country's current blockbuster,
Aftershock
, an account of an earthquake that levelled a Chinese city in 1976. The country's equivalent of
Avatar
,
Aftershock
is currently the highest grossing movie in China's history.
But when Xiaomei settled down to watch the film, she was subjected to what she says was a time-wasting 20 minutes of commercials, and insists that Polybona and Huayi Brothers, the movie's distributors, had wasted her time and violated "her freedom of choice".
Xiaomei, a lawyer by profession, is demanding a reimbursement of her 35 yuan ticket price, a further 35 yuan in compensation, and one yuan for "emotional damages". She also wants a written apology from the accused, and has called for advertisement times to be published on the cinema chain's website, on its ticket hotline and in its foyers.
Xiaomei has further suggested that the total running time of commercials shouldn't amount to more than five minutes.
If Xiaomei's claim successful, could it set a legal precedent, encouraging other disgruntled movie lovers to follow suit? Other cinema chains will, no doubt, be watching anxiously for the case's outcome.
Revisiting

Metropolis

on the big screen
Fritz Lang's 1927 classic Metropolis returns to the cinema in a newly restored, extended re-issue. Here's our review of one of sci-fi's key movies...
On paper, Fritz Lang's 1927 silent film
Metropolis
must have read like the work of a madman. Here was a movie that lasted two-and-a-half hours in an era when films typically ran for less than 90 minutes. That employed almost 40,000 extras, required the building of vast sets, an entire city replicated in miniature, and a baroque robot out of materials never before used.
It was a film that, at a time when films often cost about as much to make as a theatrical production, swallowed an estimated budget of over 5 million reichsmarks, making it the most expensive feature yet made by a considerable margin.
Fritz Lang's
Metropolis
was an insanely, audaciously inventive film, establishing the framework for science fiction cinema when such a genre barely even existed. Its depiction of a vast city of skyscrapers, monorails and neon set the template for filmmakers that followed, from Jean-Luc Godard's
Alphaville
to Ridley Scott's
Blade Runner
. The influence of its beautiful, almost sexy humanoid robot can be seen in the ungainly lines of
Star Wars
' C3PO, and the macho swagger of
RoboCop
.
Far from being a critical and financial success,
Metropolis
was hacked apart by editors after theatre owners complained about its excessive length, while some critics completely dismissed it,most notably, H.G. Wells, who described it as "foolishness". (Ironically, Wells would later write the screenplay for a futuristic epic of his own,
Things To Come
, whose towering cities clearly owed a debt to Lang's.)
For a film that has become an icon of sci-fi cinema, it's remarkable to note that, in the eight decades since its release, only a handful of people have seen
Metropolis
in its original, uncut state. Chunks of lost footage have since been rediscovered and replaced, and the movie has been reissued several times, including the infamous 1984 version, which added a distracting synth score by Giorgio Moroder. But it's only in the last two years that
Metropolis
has been restored to something approaching its initial form.
Thanks to a chance discovery of a severely damaged but complete 16mm print of the movie in Buenos Aires, the newly restored, 150 minute version of
Metropolis
now appearing in cinemas is the closest we currently have to the film Fritz Lang intended, complete with composer Gottfried Huppertz's original score, and those 80s Moroder memories can, thankfully, be put to rest.
The Film
With a spectacular orchestral boom,
Metropolis
opens with a vast cityscape that reaches for the clouds. Far below, dejected workers shuffle among subterranean corridors. As much a part of the brutal pistons and gears that power the city's monorails and neon signs, it's the proletariat's job to keep these monstrous machines churning.
The upper classes, meanwhile, are literally upper class, and enjoy a godlike existence in the metropolis' rooftop gardens, cavorting among the fountains and white peacocks in a recreation of Bosch's Garden Of Earthly Delights. They're blissfully ignorant of the oppressed masses kilometres beneath their feet, until one day their festivities are interrupted by Maria, an eerily serene matriarchal figure to the lower orders, who takes a huddled group of children on a guided tour of the city's utopian upper floors.
Spotting the crowd of rag-clad oiks in their midst, the garden's upper classes are frozen with horror, and Maria's tour is abruptly cut short by a couple of security guards. Freder Fredersen, meanwhile, the toff son of the city's despotic ruler Joh, is immediately besotted by Maria and sets off into the metrpolis' bowels to find her.
There, he sees first-hand the Sisyphean labours of the workers in the machine room, where men stand before clock-like workstations in continuous ten hour shifts. As one elderly worker exhaustedly loses concentration, the colossal machine before him overheats, the subsequent explosion sending bodies flying back like rag dolls.
In a bravura setpiece, Freder has a vision of the engine-like reactor transforming into a vast Hebrew god, greedily devouring a mindless procession of sacrificial victims. With this image still etched in his brain, Freder rushes back upstairs to tell his father, Joh, of the horrible treatment he's just seen. Chillingly indifferent, Joh dismissively says the workers are "where they belong".
Still determined to find Maria, and enlisting the help of disgraced civil servant Josaphat, Freder heads back underground, trading places with an exhausted worker and taking up a position in front one of the city's clock-like workstations. His shift over, Freder discovers that Maria is, in fact, a kind of priestess to the downtrodden masses, a female John the Baptist who predicts the coming of a saviour who will act as a mediator between the upper and lower classes.
Meanwhile, Freder's father, upon learning of her message of hope, orders a mad scientist called Rotwang to give his robot invention (here called a Maschinenmensch) Maria's likeness, hoping to breed discontent among the poor.
Rotwang, however, has other ideas, and instead programmes his simulacrum to stir up the masses into a rebellious frenzy, triggering a series of events that threaten to destroy the metropolis entirely.
Viewed in 2010, Lang's silent movie has taken on an eerie, other-worldly aura that sets it apart from any sci-fi dystopia made before or since. This could partly be due to its odd mixture of science and the occult. Rotwang's lab, tucked away in what, from the outside, looks like a fairy tale ginger bread house, is filled with pentagrams and esoteric literature, as well as bubbling test tubes and arcs of electricity.
Mostly, however,
Metropolis
' spooky aura is derived from its stunning expressionist visuals, which at times border on the breathtaking. From the extraordinary opening vistas to the colossal closing riot that takes in thousands of extras and huge sets,
Metropolis
' visual power remains remarkably undimmed. And in this newly restored edition, Lang's film is more coherent and beautiful to look at than ever, with only one significant scene (a struggle between Joh and the crazed Rotwang) still tragically missing.
The film's weakest area, however, is arguably the naivety of its politics. Its lowly populace is depicted as a bovine, superstitious and alarmingly gullible herd, who, at the film's rushed conclusion, forget about decades of oppression and poor treatment within the space of a few minutes.
In this respect,
Metropolis
is like an arthouse art deco
Avatar
, its downtrodden populace the film's equivalent of Unobtanium. And just as James Cameron's hugely expensive picture reduces concerns about ecology and modern war to a pulp battle between soldiers and blue tree people,
Metropolis
appears to suggest, in its ridiculous "heads and hands need a heart" message, that the despotic attitude of its upper classes, and their years of cruelty and oppression, were a mere cultural misunderstanding that could be resolved with a handshake.
In fairness to Lang, even he was dissatisfied with this aspect of his film, and stated in a later interview with Peter Bogdanovich that "I was not so politically minded in those days as I am now. You cannot make a social-conscious picture in which you say that the intermediary between the hand and the brain is the heart. I mean, that's a fairy tale, definitely."
Iffy politics aside,
Metropolis
stands as a classic of science fiction cinema. Astounding in its visual creativity, it quite rightly stands as one of the most significant films of the 20th century.
Skeletons review
Mark checks out the supernatural indie flick Skeletons, and finds a film that could be a British answer to Inception…
Earlier in the year, I reported back on
Toy Story
3 from the UK premiere at the Edinburgh International Film Festival. I was too skint to fork out for more than one night's accommodation and so missed out on some of the other great films showing at the festival.
This leaves me scrambling through the rest of 2010 to catch up with
The Illusionist
,
The People Vs George Lucas
and
Jackboots On Whitehall
. Another film I missed,
Skeletons
, went on to win the Michael Powell Award for Best New British Film, so I definitely had to seek it out once its limited release in cinemas nationwide finally arrived.
I knew a little about it before going in, but found my attention diverted by two things I hadn't anticipated. Firstly, that one of its players, Andrew Buckley, could feasibly be me in twenty years' time, if appearance is anything to go by. So, that was distracting, but secondly, I saw this almost as Britain's answer to
Inception
.
Skeletons
is all about Davis and Bennett, who are exorcists of an unusual sort. The skeletons of the title are basically 'skeletons in the closet', and our heroes specialise in exhuming the nasty secrets and memories of their clients.
The clientele are usually betrothed couples looking to share all of their secrets with each other before embarking upon a life together, and the pair are assigned to delve into various people's minds across the English countryside by the moustachioed Colonel.
So, like
Inception
, we find the pair as they're assigned their biggest job, in this case, solving the mystery of a missing father who's been gone for seven years, presumed dead. Furthermore, the job is put at risk by the brains of the operation, Davis, delving into his own memories and spending quality time with his personal demons.
Yeah, I know Christopher Nolan is British anyway, but the comparison is intended to be a compliment. We're basically looking at
Inception
with fewer CG effects, but with more of a sense of humour about itself.
There's a hint of the same sense of emotional baggage that comes with traversing the mindscapes of others, but more notably,
Skeletons
has a remarkable quirkiness that just makes it very watchable.
One of the offbeat choices that interested me was in how Davis and Bennett get around the countryside. Namely, they walk. Although Jason Isaacs pops up every now and then as The Colonel to suggest that there is a wider organisation involved in skeleton clearing, there's no company car. No Mystery Machine or Torchwood SUV or ECTO-1. Just two men walking across country to carry out their strange line of work.
They catch a train to the big job, almost to attribute the sense of a huge opportunity to it, but the walking around middle England really conveys how isolated they are, whether there are other people in their occupation or not. There are also terrific performances by Ed Gaughan as Davis and Andrew Buckley as Bennett, the brains and the heart of the operation, respectively.
It's also worth mentioning Tuppence Middleton's performance, because I saw her a year ago in British teen slasher flick
Tormented
, liked her, and then promptly forgot about her. I blame that film, not the actress. She's more striking here in a soft spoken role as the daughter of the missing man, who might just know more than she's telling our protagonists.
Nick Whitfield's script deals more in memories than in dreams, and his direction captures the milky and sometimes hazy properties of the memory through cinematography rather than the visual spectacle of the blockbuster counterpart that's still playing in more cinemas than this. His efforts, together with the great cast, make
Skeletons
a marvellous supernatural drama that I'm glad I hunted down.
It's very leisurely in pace and execution, but it's not complacent. It gives us characters to latch onto, a strong story to follow, and Jason Isaacs stealing every scene he's in, as ever. It really rewards the effort you make to catch it in cinemas by maximising the entertainment value of what's an apparently modest effort.
It's funny and clever and poignant, but because it's not really multiplex fare, it's almost been buried in the closet by its scant UK cinema distribution, like so many secrets in the film itself.
But, sooner or later,
Skeletons
will be out on DVD for everyone to enjoy, so when that day comes, make sure you go and dig it out.
The Worst Action Hero Names
Marion 'Cobra' Cobretti. John Matrix. Frank Shatter. Action cinema history is littered with terrible hero names, and here's our list of the most memorably awful...
Weird accents and bizarre amounts of muscle have become staples of the action movie genre, and the latter certainly makes sense, because no one's going to believe that some nine-stone weakling could save the world from terrorists or a bus full of innocent people from Dennis Hopper.
Why, though, do the protagonists in these films so often have utterly ridiculous names? In
Die Hard
, the totally ordinary sounding John McClane did just fine without having a moniker with any kind of alliteration, rhyming or jokes in it. No one sat there watching it thinking, "This film would be so much better if Bruce Willis was called 'Buck Shot'."
Still, though, Hollywood persists with the daft action hero names, and we've put a selection of the worst offenders together for you. Of course, depending on where you stand on this issue, you might actually consider the following names to be the most awesome rather than the worst. Either way, they're definitely memorable.
Played by: Sylvester Stallone in Cobra (1986)
"Crime is the disease. Meet the cure." A strong message there, about an LAPD cop with the kind of tolerance threshold for criminal activity that would make scrumping a capital offence. With his black t-shirt, sunglasses, big guns and, yes, a toothpick, he's clearly not a man to messed with. Even if he does have a girl's name.
Played by: Arnold Schwarzenegger in Commando (1985)
John, that's a good, strong name. Nothing fancy about that. He definitely sounds like a guy who could get his daughter out of a spot of trouble. John Matrix? Oh dear.
Played by: Chuck Norris in Hellbound (1994)
In spite of a movie poster mix-up on IMDb suggesting otherwise, this has nothing to do with
Hellraiser II
. So, no, you won't be seeing Chuck bitch-slapping Pinhead, but with a name like Frank Shatter, it seems pretty likely he could if he wanted to.
Played by: Steven Seagal in On Deadly Ground (1994)
This one's just weird. Although it's actually quite a plausible name, it just sounds made-up. Not only that, it doesn't even have a macho ring to it, but sounds like some kind of small wood-dwelling mammal, albeit one that could break your nuts with one punch.
Played by: Arnold Schwarzenegger in The Running Man (1987)
Okay, bear with us on this one. Sure, Ben Richards doesn't sound all that exotic. He sounds like the kind of guy you could have gone to school with. You might even be called Ben Richards yourself. However, we're willing to bet you aren't Austrian.
Played by: Jason Statham in Crank (2006)
Although a relative newcomer to the action movie scene, Mr Statham can nevertheless make a pretty good claim for the most ridiculous/awesome action hero name of all time. It's got everything: alliteration, assonance, a stupid Christian name and a surname that appears to be totally inappropriate to the actor's ethnicity. It's so brilliant, we wish we could lick it.
Played by: Sylvester Stallone in Paradise Alley (1978)
Another one from Sly, and this time one that uses a great bit of alliteration. We had absolutely no interest in watching this movie before, but now we know there's a character called Cosmo Carboni in it... Well, we still don't want to watch it, but fucking hell, that's an awesome name.
Played by: Vin Diesel in xXx (2002)
You can almost see the producers sitting around a table and thinking this one up. We assume Xander was chosen because it sounds a bit trendy and, most importantly, it begins with an 'X'. As for 'Cage', well, clearly it's in honour of Nicolas Cage, or, at least, it should be.
Played by: Tommy Morrison in Rocky V (1990)
He may not have been the hero, but he can at least take comfort in the fact that he had the most stupid name of any character in the
Rocky
series.
To finish off, we'll leave you with
The Expendables
, which is so shameless in its doling out of ridiculous names that it deserves its own section:
Jason Statham - Lee Christmas
Jet Li - Yin Yang
(both stupid and ever so slightly racist)
Dolph Lundgren - Gunnar Jensen
Randy Couture - Toll Road
(eh?)
Steve Austin - Paine
Terry Crews - Hale Caesar
Mickey Rourke - Tool
(just sounds like an insult)
The Den Of Geek guide to making a scary movie monster
Here are ten rules for making a movie monster that will leave audiences screaming in the aisles…
For every genuinely menacing screen monster, there are at least a dozen unintentionally funny, shambling travesties. For every Giger-designed
Alien
, there's a legion of creatures like the rubbery octopus-type thing from
Yog: Monster From Space
, or the man in a bear suit from
Robot Monster
.
Here, then, is the Den Of Geek guide to creating a scary movie monster, and a few examples of the pitfalls you should avoid.
A lack of eyes is scary
Designed by H.R. Giger, the titular xenomorph from 1979's
Alien
is arguably one of the most disturbing creatures ever to grace the big screen, quite possibly due to its apparent lack of eyes. And while Giger's monster has suffered from over-exposure in recent years (not to mention its appearance in the woeful
Aliens Vs Predator
movies), its original incarnation is still an iconic design.
Equally worthy of note is the terrifying Pale Man from
Pan's Labyrinth
, a hairless monstrosity that, while not strictly speaking eyeless, was made all the more unnerving by the fact that its eyes were located on the palms of its hands. Once seen, it's a creature that's hard to cleanse from your mind.
Inanimate objects definitely aren't scary
This is the number one, absolute cardinal rule: keep your monster under the cover of darkness for as long as you possibly can.
Spielberg kept his unconvincing rubber shark submerged for much of the duration of
Jaws
, while Ridley Scott was shrewd enough to recognise that, if you saw a full frontal shot of his otherwise terrifying monster in
Alien
, you'd immediately realise it was a mere man in a suit.
Even Matt Reeves, with all the 21st century computer trickery at his disposal for
Cloverfield
, was wise enough to keep his weird Large Scale Aggressor under cover of darkness for much of the film.
Darkness covers a multitude of sins. And in any case, the threat of something terrible is infinitely more frightening than the sight of the terrible thing itself. Just think how scary 1957's
The Giant Claw
could have been had it kept its vulture-like monster in the dark instead of fully exposed...
"Journey 2: The Mysterious Island" Heads Into Production
(Heat Vision) Dwayne Johnson is joining Josh Hutcherson in New Line/Warner Bros.' Journey to the Center of the Earth sequel Journey 2: The Mysterious Island, reports Heat Vision.
Brad Peyton will direct the film, to be produced by Beau Flynn and Tripp Vinson of Contrafilm, as well as Charlotte Huggins. Michael Bostick and Evan Turner of Walden Media are executive producing.
Johnson will play the boyfriend of Hutcherson's mom, who Hutcherson is forced to bring on a trip to a mythical and monstrous island to find his missing grandfather. The script is loosely based on Jules Verne's "The Mysterious Island."
The trade adds that three other characters will be introduced in the movie and cast during the next few weeks. Production scheduled to star in late October in North Carolina and Hawaii.
In the first film, Brendan Fraser played scientist Trevor Anderson, who was an uncle of Hutcherson's character. Like that movie, which earned $242 million worldwide, the follow-up will be shot and released in 3D. The studio is targeting a September 23, 2011 release.
James Cameron Putting 3D Camera on Mars
(
electronichouse.com
)
Director James Cameron seems to be single-handedly keeping 3D in the news.
Aside from talking up the re-release of "Avatar," his latest 3D endeavor will capture life on Mars—no, really!
Aside from working with Guillermo del Toro, one of Cameron's next collaborations will be with NASA's Jet Propulsion Laboratory (JPL) and Malin Space Science Systems. According to Popular Mechanics, the three will develop a stereoscopic camera for Mars exploration.
"Not only a 3D camera, but a 3D motion camera," Cameron told the magazine. "So if it all goes the way it could, we could be shooting a 3D movie on Mars. No actors, though."
The camera, which is expected to capture 3D images of the Red Planet, will be part of the Mars Science Laboratory. That's set to launch in fall 2011.


Classic VFX at The London Film Museum
(
thisislondon.co.uk
) Before computers and 3D there was Ray Harryhausen, the undisputed king of special effects. His stop-motion marvels inspired a generation of filmmakers, from Steven Spielberg to James Cameron. It was Harryhausen who developed the amazing creatures in films such as Jason and the Argonauts, One Million Years BC and the original Clash of the Titans. His life's work, including the models, are on display in Ray Harryhausen - Myths and Legends.
Also well worth seeing is a special Happy 75th Anniversary Twentieth Century Fox exhibit, which includes a host of amazing costumes and props from some huge movies: Aliens, Star Wars, Minority Report, Moulin Rouge and X-Men to name a few.
Alongside the exhibits there are regular installations on the history of British film and the creative processes behind the camera.
For a different slant on a day at the movies, the London Film Museum is a great choice.

Last Airbender Sequel Close To Greenlight
(
comicbookmovie.com
) There are some rumors going on wither or not The Last Airbender will get a sequel: Once The Last Airbender reaches $280 Million Worldwide Gross Paramount will green-light the sequel. Currently the world wide gross is:$252,831,242 with some contries not even open yet..
This begs the question: Will we get a sequel?

Transformers 3 Budget Hits $400M, Says Hardcore Eddie
(
tformers.com
) Lestor Speight, who stars as Hardcore Eddie alongside Tyrese Gibson (USAF Retired Master Sergeant Robert Epps) in Transformers 3, has revealed that the film has surpassed Titanic as the largest budgeted film ever.
Speaking with Movie Mikes, Mr. Speight says that Transformers 3 surpassed the $400 Million mark and is "still going north!"
In comparison, Transformers cost $150M and Revenge of the Fallen was budgeted at $300M.
Each film easily eclipsed their budgets at the box office, so it is not surprising Paramount Pictures gave Director Michael Bay more money to play with this time around.
Source:
http://tformers.com/transformers-transformers-3-budget-hits-$400m-still-going-hardcore-eddie-character-detailed/14233/news.html
Del Toro Gets 3D Mentoring For 'Mountains Of Madness'
(
latinoreview.com
) The James Cameron produced adaptation of H.P. Lovecraft's At The Mountains of Madness looks to be an epic film that may very well change the horror genre. Directed by Guillermo del Toro, the film is not only an incredible undertaking, but will be photographed in the same 3-D process Cameron used for Avatar. While discussing the re-release of his colossal hit with Wired magazine, Cameron touched upon his role as producer on the project, a role he admits he's never been passionate about.
Well, yeah, then Guillermo came along," he says. "In this particular case, I'm working with Guillermo because I enjoy his company, and a creative collaboration is something that we've talked about doing for a long time. It's going to be an epically scaled horror film and we haven't seen anything like that in a really long time — I guess since Aliens."
Like the novella on which it's based, the film will take place in the Antarctic, where humans encounter a race called the Ancient Ones. "The thing about Lovecraft is that he left a lot to the imagination," Cameron says. "He never told you what they looked like. He managed to create a sense of creeping horror without specifics."
Cameron believes that's what makes del Toro the perfect man for the job.
"Guillermo brings an eye for design that is so original and so quirky and so steeped in the lore of movie design and horror design, but always fresh and unexpected. Frankly, I just want to see what he comes up with and I want to enable the nuts and bolts of the production so he doesn't have to worry about that. I want to help him how to work in 3-D."

The Studio Supervisor for Lucasfilm in Singapore Wants You
(CGSociety) Mohen Leo is on a mission. At this point in his career as a visual effects supervisor, he believes he has found the perfect studio in the perfect location, and he's recruiting 100 mid- to senior-level effects artists and geeks from around the world to join him.
Five of the films Leo has worked on have received Oscar nominations for best visual effects. And Leo personally received two Visual Effects Society nominations – for best single visual effect of the year 2012 and outstanding created environment in a live action movie Poseidon.
He was a visual effects artist on Star Wars: Episode I – The Phantom Menace, and technical director for The Perfect Storm and Pearl Harbor at Industrial Light & Magic. He left ILM to become technical director at ESC for The Matrix Reloaded and then became sequence lead for The Matrix Revolutions. Back to ILM where he was associate visual effects supervisor for Poseidon, then on to Digital Domain to become visual effects supervisor for Speed Racer and 2012.
But, ask him about any of these projects and he quickly careens into his enthusiasm for his current job as studio supervisor for ILM Singapore. He believes this job embodies the best of all his previous experiences.
"I joined ESC because I was ready for a new challenge," he says. "What I loved most about ESC is that it was a small company we were building up. It was a start-up that had great projects." When ESC folded, he moved back to ILM and then to Digital Domain before returning to ILM for the third time. "I have a tendency to be restless," he says.
Restless, maybe. But at the same time, focused.
"I toyed with the idea of working in Asia for the last five years," he says. "I can't see myself planning to be in one place forever. When I look at people I think are interesting, they tend to be episodic. They do different things in different places. So, I considered Mumbai and Korea. But, I didn't want to sacrifice the quality of my work or the quality of the company. So I jumped at the opportunity to work in Asia for one of the best companies in the industry."
When Leo moved to ILM Singapore, that division of Lucasfilm had 55 people. Now, ILM has 110 and the overall group in Singapore, which includes LucasArts and Lucasfilm Animation (Clone Wars and an animated feature film in progress) employs around 400 people, with more joining the force every day.
Full Press:
http://features.cgsociety.org/story_custom.php?story_id=5847

Piranha 3D Producer Bites Back At Slurs
(
guardian.co.uk
) As spats go, it could be seen as a little uneven. On one side, James Cameron, director of box-office behemoth Avatar, one of the most expensive films of all time. On the other, Mark Canton, producer of the rather less well-known Piranha 3D, which had a budget of just $24m (£16m).
Last week, in an interview with Vanity Fair magazine, Cameron singled out the 3D work in the recently released comedy-horror film, calling it: "An example of what we should not be doing in 3D."
He continued: "It just cheapens the medium and reminds you of the bad 3D horror films from the 1970s and 80s, like Friday the 13th 3D. When movies got to the bottom of the barrel of their creativity and at the last gasp of their financial lifespan, they did a 3D version to get the last few drops of blood out of the turnip."
Having cut his teeth working on Piranha 2 (from which he was subsequently fired) and developed his own motion capture camera system to create the stunning CGI work on Avatar, Cameron might have thought he had the right to have his say on Piranha 3D. Canton, however, has hit back with an extended essay in which he labels Avatar's 3D work "inconsistent" and suggests the film's storytelling "might have been more original".
In an email sent to reporters, Canton added: "Mr Cameron, who singles himself out to be a visionary of movie-making, seems to have a small vision regarding any motion pictures that are not his own. It is amazing that in the movie-making process – which is certainly a team sport – that Cameron consistently celebrates himself as though he is a team of one. His comments are ridiculous, self-serving and insulting to those of us who are not caught up in serving his ego and his rhetoric."
Finally, Canton challenged Cameron to watch Piranha 3D on the big screen, claiming that it had been a hit with the critics.
"On opening weekend, I was in a Los Angeles theatre with a number of today's great film-makers including JJ Abrams (Star Trek), who actually had nothing short of the fabulous, fun 3D experience that the movie provides," he said.
"Machete" VFX
On Cutting Edge
(BUSINESS WIRE) -- AMD today unveiled its close collaboration with Troublemaker Studios to produce the striking visual effects for the action epic "Machete", a project for the studio that saw the Troublemaker team finalize more than 500 shots, a personal best made possible with AMD graphics and computing technology. From start to finish, Troublemaker Studios made use of a unique combination of AMD's graphics and computing technologies to bring the film to life, pioneering new special effects techniques while cutting down on production time and cost.
"I've had the idea for 'Machete' since meeting Danny Trejo while filming 'Desperado' in 1993, and it's only now after years of refining that idea combined with the advancements in AMD technology, that I've been able to bring my creative vision to life in the way I truly envisaged it," said Robert Rodriguez, co-owner, Troublemaker Studios. "The incredible developments in AMD platform technology continue to fuel my creativity, driving me to push it to its limits. In fact, I've made plans to incorporate AMD's Fusion Render technology into the production of my next film 'Spy Kids 4'."

Pixar Gurus Make Vanity Fair Power List
(
hollywoodreporter.com
) Facebook founder Mark Zuckerberg, Apple's Steve Jobs and the Google leadership took the top three positions in Vanity Fair's 16th annual New Establishment list of the 100 most influential people of the Information Age.
Among major media, entertainment and tech moguls, News Corp. chairman and CEO Rupert Murdoch ranks fourth, the Twitter team came in ninth and Liberty Media boss John Malone ranks 10th, closely followed in the 12th spot by the Disney/Pixar gurus led by Disney chief creative officer John Lasseter. "Pixar's unmatched winning streak continues," Vanity Fair argued.

Indiana's Howard County Gets 3D CGI Animated Film
(
kokomoperspective.com
) A Kokomo-based developer of interactive children's toys and media announced its plans Tuesday to make a $2.4 million animated film.
Bach Morris Technologies Corp. will produce the 3-D modeled animated film "Whoever Heard of a Herd of Fird," which is based on author Othello Bach's 1984 book "Whoever Heard of a Fird."
The 78-minute movie, like the book, is about a magical creature that is part fish and part bird and takes place in a mystical place. This is the company's first film project.
The company is investing more than $2.2 million, or 91 percent, of its budget to be spent in Indiana.
"Most of the film and animation work will be completed in facility in east central Indiana," said Mark Morris, chief operations officer at Bach Morris Technologies. "(We are) looking forward to developing a production and assembly facility for BMTC interactive companions in Kokomo if feasible. We have already made contact, and had a pleasant meeting with the Mayor (Greg) Goodnight, and his economic development team. It is our estimation that this production, assembly, and fulfillment facility will hopefully create approximately
100 to150 new high technology jobs for Howard County within the next five year period
."
Of the more than 20 high-skill jobs for the film including, artists, animators and programmers, most of the jobs will be full time, he said. Some of the others involved may be students or interns.
The film will be tentatively ready for release in the second quarter of 2012.
As for voicing the characters, the directors and producers have been in contact with BMTC and have suggested celebrity voices from both the United States and Europe.
The Indiana Economic Development Corp. offered BMTC up to $111,245, or about 5 percent in direct production cost tax credits under the state's Media Production Expenditure Tax Credit program.
"Bach Morris Technologies Corp. is extremely happy and excited about being approved by the IEDC for the media tax credits," he said.
BMTC will not receive the tax credits until the project is finished, he said.
"The Media Production Tax Credits apply only on dollars spent toward direct production costs spent in Indiana," he said.

Sci-Fi Fantasy 'Endhiran' Going the 'Avatar' Way
(
thelatestnews.in
) Shankar's sci- fi fantasy flick 'Endhiran (The Robot) is touted as the much awaited film of 2010. Everything related to this movie is larger than life, be its international special effects or the mega bucks riding on the flick. 'Endhiran' is backed by an impressive stable of cast including the most sought after hero Rajnikant, Ms. World Aishwarya Rai, Evergreen villain Danny Denzongpa amongst the others. This trilingual movie is tipped to have top notch high quality special effects. The unit of
'Endhiran' has collaborated with Hollywood's Stan Winston of 'Avatar' fame for the advanced visual effects and make- up.
Shankar, the director of the movie aspires to fill every nook of his film with perfection, which is the reason why, he has aped in Hollywood experts for 'Endhiran' technology and special effects.
Hollywood project 'Avatar' made history with it's out of the box realistic depiction of fictitious characters. The animatronics technology used in 'Avatar' surpassed every ones expectations. The latest we hear that the same technology has been used in the robotic version of Rajni in the sci- fi entertainer.
A large chunk from the Rs. 200 crores of Endhiran's budget is spent on the effects
and animatronics. Before the movie went on floors, director Shankar along with Rajinikant spent two weeks in Los Angeles to prepare the mould for the robot's body. "The first step was scanning Rajinikant's entire body to create a prototype. Using this prototype, Hollywood technicians created a robot that everyone said was literally like his double," says a source from the production house.

Multi-million Dollar "Tomb Rider 3D" Opens Across From The Alamo
(
woai.com
) Tomb Rider 3D - the newest attraction - is a multi-million dollar, special effect 3D shooting, adventure ride! Journey down into the ancient tomb of the Egyptian God, Anubis. Shoot for the high score and try to defeat the curse… if you can. After the ride, enjoy the unique, fun arcade.
San Antonio's newest attractions are all in one location directly across from the Alamo. You get 4 tickets to any ONE of the attractions below. More than a $75 actual value for just $25.
Digital Domain Pitches Animation College
(
bizjournals.com
)
Digital Domain, a visual effects production studio, is pitching West Palm Beach officials for a digital animation college at Okeechobee Boulevard and Dixie Highway.
Digital Domain rendering for West Palm Beach project.
The initial 150,000- to 350,000-square-foot building would have a branch of the Florida State University Film School, a new Digital Domain Institute and an animation studio.
John Textor, whose Jupiter-based Wyncrest Holdings LLC owns Digital Domain, is asking the city to provide the 2.4-acre site, $10 million in cash and issue $15 million in bonds that Digital Domain would be responsible for repaying.
"I feel great pressure. "You do this type of thing in your hometown, you better not louse it up," Textor said at a press conference. (A video of part of the press conference is available here.)
The proposed site is a parking lot, just east of CityPlace and the Palm Beach County Convention Center, and next to the Florida East Coast Railway track.
City commissioners would have their first vote on the project in September, and Mayor Lois Frankel was enthusiastic about the project during the press conference.
An Aug. 27 Business Journal article detailed how new transferrable tax credits are helping revive the film industry in Florida and profiled G-Star Studios and the G-Star School of the Arts for Motion Pictures and Broadcasting in Palm Springs.
GStar has just built a 12,000-square-foot soundstage and is seeking donations to accelerate construction of five more.
Digital Domain was founded in 1993 and has film credits for three features that were awarded Oscars for special effects – "Titanic," "What Dreams May Come" and "The Curious Case of Benjamin Button," according to the company's website.
Digital Domain CEO Cliff Plumer previously worked at George Lucas' Industrial Light & Magic and Lucasfilm Ltd.
Textor, whose company purchased Digital Domain in May 2006, grew up in West Palm Beach, attended Twin Lakes High School and "has always had a desire to come back and do something in his old hometown," G-Star founder Greg Hauptner said.
Textor said during the press conference that his mother still lives in West Palm Beach.
Textor's biography indicates he once worked with Shearson Lehman Hutton, and was subsequently responsible for strategic planning and corporate finance for the Michael Swerdlow Cos., a major South Florida developer. Shearson was among the partners that helped developer Michael Swerdlow purchase Hollywood Inc. in a $400 million deal, according to the Swerdlow Group's corporate history.
Among Wyncrest's holdings is Baby Universe, a NASDAQ-listed company in Jupiter that was acquired and taken private.
Textor was also a founding director of Lydian Trust Co. in the town of Palm Beach, but is no longer listed as being on the board.
Digital Domain has received $51.8 million in government funds to build a 150,000-square-foot animation complex that is expected to employ 500 people at an average salary of $65,000, according to St. Lucie County and media reports.
The state granted $20 million from the quick closing fund.
Last year, state Rep. Carl Domino, R-Jupiter, filed a bill seeking an audit of the incentive package, saying Wyncrest didn't have enough experience in the video game industry or producing movies, according to an Aug. 28 article in The Palm Beach Post. The bill did not progress.
Domino could not immediately be reached for comment Tuesday. An aide said he was traveling. Digital Domain officials could not be immediately reached for comment, either.
Textor said Domino lost a $50,000 investment with him, but Domino said that wasn't his motive, according to the Post. Textor also said Digital Domain's track record contradicts his assertion about a lack of experience.
Hauptner said he thinks Digital Domain is already up to about 46 employees in St. Lucie County.
Digital Domain is helping put together a curriculum at G-Star, Hauptner said. Middle school students will be able come to G-Star, which is a charter school with open enrollment, and then transition to the FSU Film School.
"Then, once you graduate from Florida State, you will be hired into Digital Domain in a high-paying, smokeless industry," he said.
The FSU Film School was honored recently by the Directors Guild of America for distinguished contributions to American culture, according to its website.
The film school is the only one in the U.S. that pays for production of graduate and undergraduate films, according to the website.
Confirmed: Two Sequels To Blockbuster Avatar
(
voxy.co.nz
) Canadian film director James Cameron has confirmed he is planning not one but two sequels to his 3D sci-fi epic, Avatar, which earned a special effects Oscar for the Wellington-based Weta Workshop.
Following the announcement that the blockbuster will return to cinemas with an extra nine minutes of footage to the original 161 minute running time, Cameron told
wired.com
that he wants to film two sequels.
A DVD set comprising three cuts of the movie - the original, one with nine more minutes and a third with 16 more minutes - is scheduled for release in the US in November.
After that, Cameron will concentrate on sequels to Avatar and producing a new horror film of the HP Lovecraft novel At The Mountains Of Madness, directed by Guillermo del Toro, now at a loose end after leaving the Hobbit. Naturally, the film will also be in 3D.
"Before I go to make another Avatar movie, I don't want to have to go back. When we close this box, it stays closed, which is why the one in November is the definitive version," Cameron said.
The additional footage will give some background to the story, he said.
"You'll see a little bit of background, a little bit of stuff that happened off camera in the movie that you saw," Cameron told Wired.
"You'll see new creatures, new set pieces, new emotional scenes. It's anecdotes, but it's not going to be perplexing or change the story."
The additional scenes were edited before Weta went to work on them, according to Wired. However,
there was no word as yet on whether Weta would work on the Avatar sequels.
Beijing Visual Effects Team Acclaimed
(
globaltimes.cn
) Beijing studio Base FX received a Best Visual Effects Emmy award Sunday for their outstanding work on part five of the HBO miniseries The Pacific.
The producers' high standards and the team's exceptional attention to detail was the key, said the company's chief operating officer.
Base FX is a visual effects and animation production studio with its headquarters in Los Angeles and a production team, of which over 90 percent is Chinese, in Beijing. A team of 20 people, led by visual effects director Christopher Bremble, worked for more than three months on "Peleliu Landing," part five of the 10-part World War II television miniseries produced by Steven Spielberg and Tom Hanks. During that time, the team delivered over 70 modified versions of the landing scene, 30 of which were corrections of subtle details, such as the brightness of the light.
"The producers set very high standards for the visual effects for this miniseries and we delivered every bit of it," Xie Ning, chief operating officer of Base FX told the Global Times. Although it was a miniseries for TV, the producers' demands for the quality of the visual effects were no less than those for film, he said.
The most challenging part, according to Xie, was to recreate an authentic look for a scene that occurred in the mid-20th century.
Furthermore, because the series had a strong documentary feel to it, the visual effects needed to transport the audience back to that era without being over the top. The landing scene was the last to be completed, but it won the team its hard-earned Emmy.
"We have our production team here to take advantage of the human resources," said Xie. "People who are on our team really believe in this art."
Their production cost for a less-demanding project is one-sixth that of the equivalent done by a US studio, or one-third of that for a high-quality project, according to Xie.
"When it comes to competition, we still won with the quality of our work," said Xie. "I think we're the best visual effects studio in China. Our goal is to become the best in Asia."
Base FX now has a 150-strong team, and has worked on many state-of-the-art productions both domestic and international. In 2008 and 2009, it worked on Recount and Grey Gardens, two Emmy-winning HBO productions.
The studio has just finished its fourth HBO project, Boardwalk Empire.

VFX Fall Preview 2010: 10 Movies to Watch
(
vfxworld.com
) Aliens, zombies, vampires, another Hanna-Barbera cartoon icon goes CG, back to Narnia, a bigger Jack Black, a tormented ballet star, Eastwood tackles the supernatural, Harry's final journey and the return of Flynn. And, of course, lots of 3-D.
10) Skyline (Universal, Nov. 12)
9) Resident Evil: Afterlife (Sony Pictures, Sept. 10)
8) Let Me In (Overture Films, Oct. 1)
7) Yogi Bear (Warner Bros., Dec. 17)
6) Black Swan (Fox Searchlight, Dec. 1)
5) Gulliver's Travels (Fox, Dec. 22)
4) Hereafter (Warner Bros., Oct. 22)
3) The Chronicles of Narnia: The Voyage of the Dawn Treader (Fox, Dec. 10)
2) Harry Potter and the Deathly Hallows, Part 1 (Warner Bros., Nov. 19)
1) Tron Legacy (Disney, Dec. 17)
Full Press:
http://www.vfxworld.com/articles/article/vfx-fall-preview-2010-10-movies-watch/page/1%2C1

Big Budget "Battleship" Movie Set to Film In Hawaii
(
alohaupdate.com
) Battleship Hawaii MovieWith Pirates of the Caribbean now gone, Hawaii has already locked in its next big budget Hollywood movie. The new film "Battleship" will begin filming on Oahu August 31st.
The movie is an adaptation of the classic Hasbro board game and is being helmed by Peter Berg. Don't know that name off the top of your head? You will very soon. Peter Berg directed the movie "Hancock" starring Will Smith. While Berg does not have much more experience in the action adventure genre, Universal apparently trusts him enough to allow him to film this big budget adventure. Starting numbers put the production cost of the movie at $200 million, but insiders say the number is closer to $250 million and counting.

"Shark Night 3D"
Production Greenlights
(Heat Vision) Sinqua Walls, Chris Carmack, Alyssa Diaz and Joel David Moore will star in David R. Ellis' horror film Shark Night 3D, produced by Mike Fleiss and written by Jesse Studenberg and Will Hayes.
Heat Vision says "the story revolves around seven men and women who spend a weekend at a lake house in Louisiana's Gulf area. Their vacation quickly becomes a nightmare of hellish shark attacks."
Walls is playing a Tulane University linebacker with plans on marrying his college sweetheart (Diaz).
Carmack is the ex-boyfriend of the female lead, still uncast, who was scarred in a boating accident.
Moore is providing the comic relief as a socially awkward guy who fancies himself a young Brad Pitt.
Filming is scheduled to start in early September in Louisiana.

U.K. Games Studio Collapse Costs 185 Jobs
(
forums.cgsociety.org
) A total of 185 people have been laid off after the collapse of video games firm Realtime Worlds, administrators have confirmed.
It comes as a Dundee MP called on the UK government to "look again" at tax breaks for the computer games industry.
The company, founded by the creator of Lemmings and Grand Theft Auto, went into administration on Monday.
In Dundee, 157 of the company's 210 staff have lost their jobs, along with 28 of the firm's US staff in Colorado.
The SNP MP for Dundee East, Stewart Hosie, said he was saddened by the news of Realtime's demise.
A tax break for the industry was cancelled by the UK government in June. The Scotland Office said the measure had only ever been a proposal by the previous Labour government.

The Kerner Group Focuses on 3D Production
(
cgw.com
) Kerner, the 30-year Marin County-based visual effects company that was once home to Industrial Light & Magic (ILM), has refocused its efforts on stereoscopic 3D production. The move comes as the company finds itself under new ownership, and has honed its already-formidable skills in 3D technology and production.
First, some history: Kerner—formerly Kerner Optical—has long been the center of compelling new technologies, with significant achievements in motion control and other specialized camera systems. When George Lucas founded ILM in 1971, he assembled a cast of the most talented and innovative visual effects artists, who created not just digital, but also practical, effects with miniatures and models. When ILM moved its CG artists to the San Francisco Presidio, it was determined that the practical visual effects division would stay put at the historic facility on Kerner Boulevard. And Kerner Optical was born.
Since then, Kerner Studios has continued to serve ILM projects as well as offer its services to producers of television, film, commercial, music video, and corporate productions. Among its many offerings, Kerner houses a state-of-the-art production space with several fully equipped indoor and outdoor stages, camera (2D and 3D) equipment, and experienced talent.
As it evolved, the Kerner Group has also launched other new service divisions, including those involved with commercial production, model and miniature design for non-entertainment clients, corporate/government research, and the production of original 3D film and television projects.
Full Press:
http://www.cgw.com/Press-Center/Online-Exclusives/2010/The-Kerner-Group-Focuses-on-3D-Production.aspx

New 'Star Tours II' Trailer
(
latinoreview.com
) New Star Tours II Trailer For You Disneyland/Star Wars Nuts Our own Edgar 'El Toro' Arce tweeted this promotional video to me that is the new promo for the Star Tours II attraction opening next year at Disneyland and Disney's Hollywood Studios in Florida.
The video shows off three different vacation packages which leads me to believe there are going to be three different tours available, which really helps with wanting to go on the ride more than once.
Take a look:
http://www.latinoreview.com/news/new-star-tours-ii-trailer-for-you-disneyland-star-wars-nuts-10989

Master of All Areas of Visual Effects For $549
(
forums.cgsociety.org
) In this workshop,
Hollywood Technical Director & Visual Effects Specialist Allan McKay
will take you through VFX from a production standpoint and then follow the process from the initial pre-production stages through to the integration of your special effect into a scene. You will be mastering all areas of FX and putting them to practice and applying it to a simulated production pipeline.
Student numbers will be strictly limited to 35 places only. For more details and enrolment information go to
Hollywood VFX for Live Action Integration
Course Begins: 6th September 2010
Course Ends: 31 October 2010
Weeks: 8
Fee: USD $549.00

Katzenberg
Announces 'How to Train Your Dragon' Sequel
(
suite101.com
) Yes Virginia, there is a How to Train Your Dragon sequel.
Now that How to Train Your Dragon has made $180 million at the box office, DreamWorks Animation has green-lit a sequel, scheduled for 2013.
In a move that surprised absolutely no one, DreamWorks Animation has green-lit a sequel to the Chris Sanders/Dean DeBlois flick, which has pulled down $180 million after 4 weeks in domestic theatres.
According to Coming Soon, DWA CEO Jeffrey Katzenberg made the announcement when revealing the Glendale studio's first quarter profit statement.

2010's Best CGI Animated Film You've Never Heard Of - Metropia
(
hollywood.com
) There's a reason most people likely haven't heard of Metropia: It's a Swedish-made animated film about a dystopic future with questionable methods of mind control that only opened in NY and LA. The story gets a little strange, but the animation is unique and it's got a pretty cool roster of voice actors (Juliette Lewis, Alexander and Stellan Skarsgard, Udo Kier, Vincent Gallo) to help bring it to life. It's not for everyone, but if that cast piqued your interest any, it's certainly worth checking out.
Full Press:
http://www.hollywood.com/news/The_Summer_Sci_Fi_Movie_Awards/7162312

ILM Alum John Eblan Heads FX Model Co.
JOHN EBLAN, PRESIDENT: The FX Model Co. is headquartered in a two-story red barn off of Maricamp Road. We currently provide screen accurate replicas of several licensed properties for a web-based seller. Those licensees for us include "Star Trek," "Battlestar Galactica," and "Serenity." We also provide models and replicas for private collectors. Occasionally we provide a set or prop for a studio or other entertainment entity. We currently have a total of six crew members and two freelance artists that we employ.
After college, when I was interested in working in film, I simply applied at Industrial Light & Magic the leading visual effects company in the film industry. The day that I applied was the right day and the right moment. My family and I moved to northern California after I was hired; it was a great to place to live and work. However, after 9/11, the film industry slowed down, especially the types of films that had large explosions and scenes of destruction. That put a lot of visual effects people out of work.
Before being hired at ILM, I was self-employed with then what was called the FX Co.; after ILM we came back to Florida and started up the FX Co. again. Later we incorporated into the FX Model Co., LLC. I would still be called back to northern California from time time to work on films; the last one was "Indiana Jones and the Kingdom of the Crystal Skull."
Is Darren Aronofsky set to direct Wolverine 2?
With weird drama/thriller Black Swan on the way, is it possible that director Darren Aronofsky's next movie will be a sequel to X-Men Origins: Wolverine?
As we may have already said more than once here on Den Of Geek, Darren Aronofsky's films, regardless of subject matter or genre, are seldom less than fascinating.
From his stunning debut feature,
Pi
, to the forthcoming, creepy looking
Black Swan
starring Natalie Portman, every project he's involved with is individual and excellently crafted. Even his sprawling, genuinely odd misfire,
The Fountain,
had its moments of visual brilliance.
The action genre is one that Aronofsky has yet to tackle but, if the rumours heading in from the US have any basis in reality, that may soon change. According to First Showing and Deadline, Aranofsky is, along with David Slade, one of the names in the running to direct the follow-up to
X-Men Origins: Wolverine
.
Wolverine himself (Hugh Jackman, to you and me) has been in talks with both directors, though at this point it looks more likely that Slade, with his recent hit
Twilight: Eclipse
, will get the directorial gig.
The notion of Aronofsky directing an effects action movie like
Wolverine
2 is an exciting one, though, and we'd be fascinated to see what he would do with one of
X-Men
's most recognisable characters. More on this as it comes in.
Warner Bros. Planning 3D Battle of Midway Film
(Deadline) Warner Bros. has bought Bruce C. McKenna ("The Pacific," "Band of Brothers") World War II pitch The Battle of Midway, reports Deadline.
The 3D film would be about the June 4-6, 1942, turning point of the war. The site adds that McKenna is expected to turn in a script in eight weeks for the film, which may carry a price tag of around $200 million.
Akiva Goldsman's Weed Road will produce the film.
The Battle of Midway was previously turned into a 1942 film, directed by John Ford, and a 1976 version that starred Charlton Heston, Henry Fonda, James Coburn and Hal Holbrook.
'Avatar' Re-release Fails at US Box Office
(timesofindia.indiatimes.com)
Acclaimed Hollywood filmmaker James Cameron's re-release of sci-fi epic movie " Avatar" has been reported a flop at the US box office at the weekend.
The horror film " The Last Exorcism" topped the box office chart, debuting with $21.3 million in earnings, followed closely by " Takers", the crime drama starring Chris Brown, Hayden Christensen and Matt Dillon opening with $21 million, reports contactmusic.
Meanwhile, Cameron's 3-D special edition of "Avatar", which included an extra nine minutes of footage, failed to draw cinemagoers in droves as it did last year. The film pulled up merely $4 million.

'Airbender' Fights For #1 Spot O'sese
(
hollywoodreporter.com
) It's another too-close-to-call weekend on the foreign theatrical circuit as "The Expendables" and "The Last Airbender" appear neck and neck as of Sunday in the race to box office No. 1.
Weekend take for director M. Night Shyamalan's 3D adaptation of the Nickelodeon TV series comes to an estimated $18 million from a total of 5,843 venues in 51 markets for an overseas total of $120 million. Paramount's "Airbender" opened No. 1 in Mexico ($4 million from 812 spots) while its first China round points to $2.6 million from 1,500 locations.
All CGI "The Thing" May Be 'Die Hard' Fan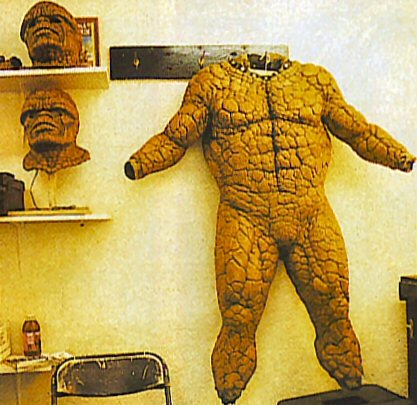 (
darkhorizons.com
) 20th Century Fox's plan to reboot the "Fantastic Four" franchise continues to gain momentum ahead of its planned production sometime next year for release Summer 2012.
Rumours began last week that Adrien Brody and Amber Heard were being pursued to star as Mr. Fantastic and Sue Storm respectively.
Then on Satuday came online buzz (via Latino Review) that "True Blood" star Stephen Moyer is up for Doctor Doom who will be shown as the ruler of Latveria in the property.
The report also said Alice Eve is in contention for Sue Storm, while "90210" star Kevin Pennington would be up for playing Johnny Storm.
Then today Comic Book Movie reported that Fox is pursuing Joe Carnahan ("The A-Team," "Smokin' Aces"), David Yates ("Harry Potter 5-7," "State of Play: The Mini-Series") and James McTeigue ("Ninja Assassin," "V for Vendetta") as potential directing candidates with one of the trio to get an offer soon.
The site also claims Fox is interested in having Bruce Willis voice The Thing which will be a CG animated character for much of the film.
So far though, all of this is mere speculation with nothing even close to being locked in as yet.

"Clash of the Titans II" Seeks "Battle: LA" Treatment
(
latinoreview.com
) Warner Bros and Legendary Pictures continue trying to work out a deal for Battle: Los Angeles director Jonathan Liebesman to direct a sequel to Clash of the Titans. The studio has been working on a sequel since the original grossed more than $500 million worldwide. But it was clear since last April that the film's original director, Louis Leterrier, wasn't going to return for a reprise. I'm told they are far apart on money.

New 'Mad Max' Shuns CGI, Favors Trying to Kill Stunt Men
(
filmschoolrejects.com
) I imagine the children of the next generation will be forced to slam together green blocks and head for a computer to add in the cars afterward. CGI has grown up considerably in the past decade, but it's also become prevalent to the point of fault. It's great to see advancements, but it's not great to see technology used as a crutch when practical filmmaking is so much more exciting to watch.
Cars flying down the crackling asphalt of highway is one of those occasions.
Fortunately, and unsurprisingly, it's an Ozploitation sequel avoiding the modern and heading straight for the grease-stained methods of the past. Mad Max: Fury Road is currently planning on using 138 real-life, metal, not-at-all-computer-rendered vehicles in order to perform nearly 300 stunts that have the gruesome potential to leave stuntmen down for the count. Down with safety, and
down with wearing green spandex with tennis balls taped to it.
Yes. Hell Yes. There's few things that cause eyes to roll more than CGI-ing the hell out of a car chase. It's better for the environment, but I'd rather see a pod of whales swimming through an oil slick than endure more amateurish, cartoon-y shots of a fake background chasing someone who has clearly never stunt-driven before. This news adds to excitement about the film (which mostly comes from seeing Tom Hardy in the lead role), which is filming now. Thanks, Max, for caring enough to slam metal to metal. Buster Keaton would be proud.

Two Disney CGI Heavy Films Earn $1 Billion in One Year
(
familyvideo.com
) It goes without saying that some production companies are struggling at the moment, but such is not the case for Walt Disney Studios. Two films released by the Mouse House have now earned $1 billion worldwide.
According to Entertainment Weekly, "Toy Story 3," the third installment in the popular Pixar franchise, has now grossed $404.9 million in the U.S. and $592.9 million internationally. The film joins "Alice in Wonderland" as the second billion-dollar grossing movie this year.
"These box office triumphs prove that creative storytelling brought to life by imaginative, inspired, and talented professionals is something audiences respond to the world over," said Rich Ross, chairman of Walt Disney Studios.
Walt Disney Studios has been in the movie business for more than seven decades. Their first full-length, full-color animated film was "Snow White and the Seven Dwarfs," which hit theaters in 1937. It is recognized as one of the greatest movies of all time by the American Film Institute.
Disney's next widely-anticipated project is "Tron: Legacy," which will be in theaters later this year.

Effects Impresarios 'Spectral Motion' Handles 'Knights of Badassdom'
(
fearnet.com
) That's a wrap on director Joe Lynch's (Wrong Turn 2) Knights of Badassdom one month and ten days after it all began in Spokane, Washington. Summer Glau, Peter Dinklage, Ryan Kwanten, Steve Zahn, Douglas Tait, and Danny Pudi star in the flick that follows the exploits of a group of LARPers (Live Action Role Players) who accidentally release a big badass demon. More below.
Spectral Motion, who created creatures and mutants for the Hellboy and X-Men franchises, are handling the special effects, those behind the scenes tell us to 'expect a lot from the plethora of demonic minions that are set to be unleashed'.
The official synopsis of Knights of Badassdom goes a little something like this:
After being dumped by his sexy girlfriend Beth, Joe (Kwanten) reluctantly decides to join Eric (Zahn) and his LARPing (Live Action Role Players) friends in the woods rather than stay behind and feel sorry for his newly single status. There he meets hot, ass-kicking, intimidating LARPer Gwen (Glau) and finds himself plunged into a surreal adventure wilder than he ever imagined when a make-believe wizard casts an all-too-real spell from an ancient book. That spell releases an actual demon Abominog (Tait) with a taste for human blood -- and souls -- that starts systematically decimating the players in this suddenly deadly "game." Will our guys become the heroes they have been pretending to be before time runs out?
Source:
http://www.fearnet.com/news/b19980_joe_lynchs_knights_of_badassdom_are.html
How Did Hollywood Ever Get by Before Computers?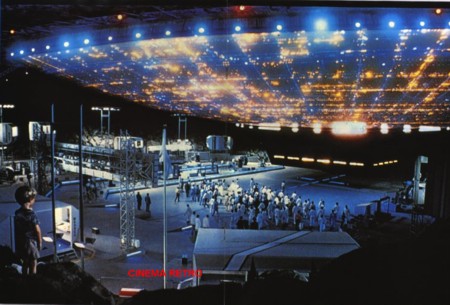 (
stkarnick.com
) In an article on Pajamas Media, Ed Driscoll discusses special effects (FX) that really were special. A commonly employed camera trick he discusses is the "matte painting," a small image superimposed over a background containing a set and the actors.
The undisputed master of the matte shot was Albert Whitlock. It was a money-saving device commonly used in Hollywood until the late 1970s, when George Lucas and his crew almost single-handedly reinvented movie FX by coupling the camera to a computer.
Unfortunately, an indefinable "something" was lost in the transition, Driscoll notes:
. . . the aesthetics of old Hollywood also helped to sell matte paintings. From Gone with the Wind in 1939, to the great MGM musicals of the 1950s, films made during Hollywood's golden era typically had a softer, more painterly look in general. Contrast this more aesthetically pleasing look to the harsh gritty films that became the vogue in the 1970s after Old Hollywood collapsed.
Full Press:
http://stkarnick.com/culture/2010/08/20/how-did-hollywood-ever-get-along-before-computers/

Disney Epic Mickey's Opening Cinematic is Probably Ever Your Head
(
joystiq.com
) Finally, with the release of the opening cinematic for Disney Epic Mickey, we're getting a bigger look at the story going on behind Warren Spector's ode to Disney animation. As expected, it involves some shenanigans with Mickey and a sorcerer (Yen Sid from Fantasia), a magic paintbrush, some paint and paint thinner. But even more intriguing are the many nods to old-school Disney cartoons, from all of the hats and objects placed on the walls to the dates and movie stills flying past in the quick montage near the end.
Of course, it would probably take a Disney aficionado like Spector to catch all of those references zipping by, but even if you don't get everything, you can at least see that Mickey has unintentionally created the Phantom Blot, and has caused a little bit of chaos in Yen Sid's alternate reality, turning it into the Wasteland that the big-eared hero gets tossed into. Hopefully the game will be just as fun without knowing why that calendar above says "March 25."
Take a look:
http://www.joystiq.com/2010/08/17/disney-epic-mickeys-opening-cinematic-is-probably-over-your-hea/
Resident Evil Afterlife Special Effects Featurette Packs a Punch
Sony Pictures released a brand new behind the scenes featurette from the film "Resident Evil: Afterlife" by director Paul W.S. Anderson (Castlevania, Death Race: Frankenstein Lives) and starring Milla Jovovich (The Fourth Kind), Wentworth Miller (Prison Break, BioShock), Ali Larter (Heroes), Shawn Roberts (Survival of the Dead) and Kim Coates (Sons of Anarchy).
Synopsis: Actress Milla Jovovich returns as the zombie-fighting heroine Alice. Ali Larter reprises her role as Claire Redfield from "Resident Evil: Extinction." Spencer Locke, who played K-Mart in "Extinction," is also set to return. New to the film franchise is leading man Wentworth Miller, who has signed on as Chris Redfield – Claire's brother and a popular character from the game series. Shawn Roberts will take over the role of Alice's nemesis Wesker. Boris Kodjoe and Kim Coates have also been cast.
Alice's battle with The Umbrella Corporation isn't finished. Last time we saw Alice, she let them know she was coming after them. It's time to settle the score.
Take a look:
http://www.shockya.com/news/2010/08/30/resident-evil-afterlife-special-effects-featurette-packs-a-punch/

Grumman Studios making movie magic at Plant 5
(
newsday.com
) The big blue ball that has stood atop Plant 5 at what was Grumman for decades has a different look these days -- it is now red.
The change in color is not just cosmetic. The ball no longer says Grumman or Northrop Grumman, the name of the Bethpage-based aerospace company since 1994. It now says Grumman Studios.
What gives? Plant 5, where Grumman workers built the lunar landing module...
More:
http://www.newsday.com/columnists/james-bernstein/grumman-studios-making-movie-magic-at-plant-5-1.2227646
An Emmy for Rebuilding a Galaxy
(nytimes.com) The finished product, "Star Wars Uncut," won an Emmy last week in a relatively new category, interactive media, heaping new attention onto a project that its producers call a "user-directed broadcast."
The award is all the more remarkable because, in a world in which television heavyweights like HBO and NBC mount big-budget campaigns to win Emmys, "Star Wars Uncut" is just a hobby for its creator, Casey Pugh, a 26-year-old Web developer who lives in Brooklyn.
"I'm just so happy that the Internet is taking this step into the broadcast world," he said in an interview, adding, "It's partly because broadcast is letting it in."
The makers of "Star Wars Uncut" were encouraged by a Television Academy member and past winner, Richard Cardran, to submit their project for an award. The annual awards recognize television production, but in the age of online video streaming they also acknowledge the ways that shows can connect with fans online.
"Fans want to be involved in shows," said Geoff Katz, a co-governor of the Emmys' Interactive Media Peer Group, which oversees the category, officially called "outstanding creative achievement in interactive media."
In previous years winning Web sites have effectively been marketing vehicles for television shows like "Lost" and "Heroes." But "Star Wars Uncut" is more — it is completely independent, a work of art by film aficionados around the world. Mr. Katz called it a "major milestone" for the Emmys.
That is something that Mr. Pugh and his fellow filmmakers also highlighted in a reel for the voters this summer. "At 'Star Wars Uncut' users aren't just getting more information about their favorite characters, they are the characters," the video's narrator, Jamie Wilkinson, said.
The project was rooted in Mr. Pugh's interest in crowd-sourcing, a term for divvying up tasks by way of the Web.
Last fall he sliced "A New Hope" into 15-second scenes — 473 in all — and concocted a Web site where fans could sign up to recreate each scene. All told, there were multiple submissions for each 15-second scene, a wild assortment of live-action, animation, Lego set-ups, stop-motion sequences and more.
"The reward for people is doing the work," he said. "That's their favorite part — actually re-enacting the scenes."
That was one of Mr. Pugh's motivations, too: wanting to create a scene of his own. He drew attention to the project by writing about it on his blog.
This month Mr. Pugh put online the "Uncut Movie," which appears to be a fully finished fan version of "A New Hope" but is actually just a seamless playing of the 473 scenes in a row.
A computer program written by Mr. Pugh automatically plays the highest-rated rendition of each scene, and it compiles those scenes on the fly, so the movie can change in real time depending on the ratings of users.
"I think the reason we won the Emmy is because this is an entirely new type of broadcast," said Annelise Pruitt, the designer of the "Uncut" Web site. She calls it "crowd-sourced and code-directed art."
For Ms. Pruitt, too, it has been a hobby.
The producers' final work is a fully edited fan film with the actual "Star Wars" soundtrack. They have told fans on their Web site that "we are working through the legal issues in order to bring that to everyone as soon as possible."
Mr. Pugh said Lucasfilm, which is notoriously protective of the "Star Wars" brand, contacted him early in the creation of "Uncut" and told him that it wanted to support the project. Because Mr. Pugh has signed a nondisclosure agreement, there is little he can say about the discussions with the company, except that "Lucasfilm isn't out to make money on this, and neither am I."
Lucasfilm said in a statement Friday that "we are really pleased that they won an Emmy for their efforts" and that its long-time partner for fan productions, Atom Films, is in talks with the producers. Atom holds an annual Star Wars Fan Movie Challenge, which culminates in screenings of winning films on the Spike channel, and "we hope that some day 'Star Wars Uncut' can air on Spike," Lucasfilm said.
Already, the fully edited film has been screened once, at a festival in Copenhagen in April, but Lucasfilm put off planned screenings in New York, Mr. Pugh said. He said he had hoped to start recutting "The Empire Strikes Back" this summer, but that too has been delayed.